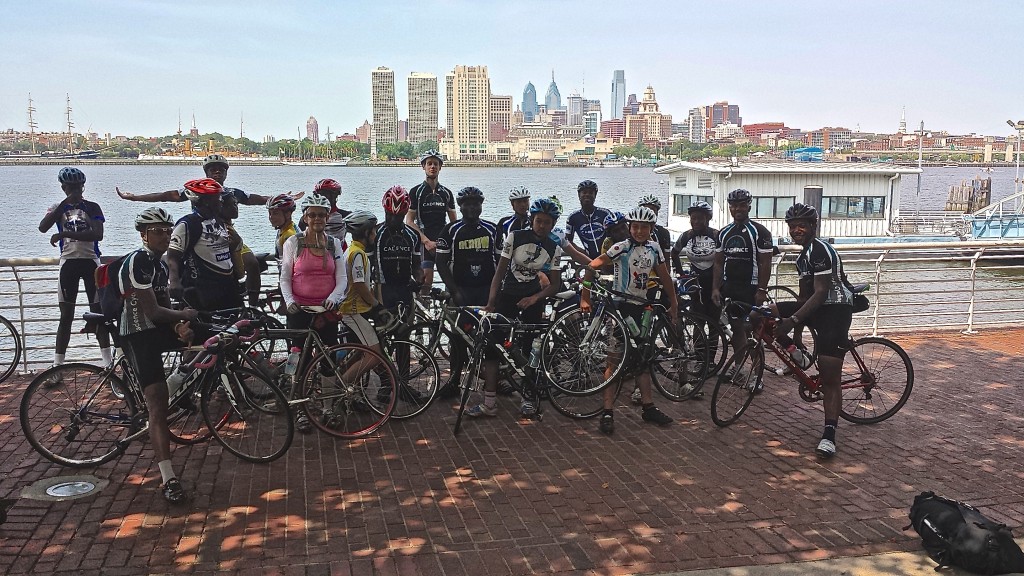 This past weekend, Cadence Cycling Foundation finished its 2014 season. By 10am on Saturday, approximately 40 youth athletes joined six coaches, staff from the Bicycle Coalition and the Rails-to-Trails Conservancy, and one volunteer at Washington Square Park in Center City. We split into two groups for rides exploring The Circuit. This part of the day gave our youth who primarily ride as racing athletes a chance to explore infrastructure (bicycle specific or non-bicycle specific) in their communities.
Our more experienced riders went on a ride to and through Camden, before returning back to Philadelphia. CCF Program Manager Cy Maramangalam led the riders through Philadelphia to the Ben Franklin Bridge, where they met up with Akram Abed, Camden Metro Manager at Rails-to-Trails Conservancy's Northeast Regional Office. Akram led the riders along the Camden waterfront, through some city streets, Cooper River Park, and back across the river to Philly. The remaining riders went on a ride around Philadelphia led by me, Rebecca Cweibel of Safe Routes Philly. We rode through the Spruce Street buffered bike lane, the Schuylkill River Trail, the Spring Garden bike lane, and the two-way separated bike lane on Delaware Avenue before arriving at Penn Treaty Park.
We arrived at the park and had a barbeque lunch (thanks, Trader Joe's, Rustica, and The Fresh Grocer!) before beginning reflection activities. The athletes and program staff demonstrated teamwork skills through group trust activities. Our final activity presented each athlete with the opportunity to reflect on their own experience with CCF, whether this was their first season, or they had been with the program for years. Athletes were given three index cards and a marker, and the task to complete three statements: "Before Cadence___," "During this Cadence season______," and "After Cadence,____." Everyone placed their index cards up on strings of clothesline for all to see, and some athletes volunteered to read their cards aloud for the group. It was immediately clear just how much Cadence means to those in the program. Some of the athletes' responses were accomplishment-based, and others were socially-based and personal. All were great to read and experience. Some examples:
"Before CCF I just rode my bike, now I ride bikes over long distances with great people."
"Before CCF I was super shy and didn't know a lot of people that rode bikes."
"Before CCF I was desperately looking for something new."
"Always on the cusp of boredom before bicycling."
"Over this season I learned how to trackstand and finally got the hang of my gears."
"Participating in my first race was awesome."
"I am excited to ride long distances with my friends, and I was able to learn road signs and communication."
"During CCF I discovered the true capabilities of my body."
"During CCF I became a stronger rider and a leader and started meeting people."
"In the future I plan on graduating from CCF and helping beginners."
"Next year I'm hoping to join All-Stars and ride even greater distances."
"I hope to become faster and keep riding forever!"
"After CCF I plan on coming back."
"I intend to continue riding with Cadence and becoming a coach."
"Looking back, I'm grateful for all of the opportunities that CCF has given me."
CCF helps youth become athletes, leaders, and true team players. Last weekend, we experienced the true extent of their investment.
[su_slider source="media: 184690,184693,184683,184689,184682,184675,184687,184686,184691,184688,184679″ height="400″ title="no" pages="no" mousewheel="no" autoplay="0″]
Cadence Youth Cycling is now Bicycle Coalition Youth Cycling. Click here to learn more about the recent changes, and click here to donate.